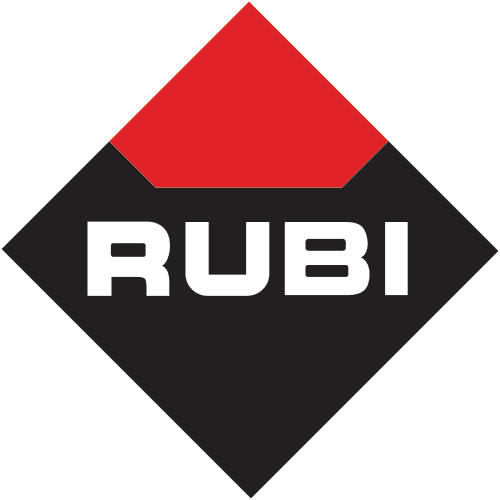 The circular cutter TC-125 is part of the SLAB system for ceramic sheet and large format tiles. For the correct operation of the TC-125, the use of the SLIM cutting guides is NECESSARY. Thanks to this guidance system, we can obtain a precise and smooth cut. The sliding skid, carbon steel, of the TC-125, incorporates stainless steel radial bearings, with a very simple adjustment system that allows to have the machine in perfect condition. The circular cutter TC-125 of RUBI, has a double system of reduction and control of the dust generated during cutting. Either, by means of its connection to a vacuum cleaner (dry cut) or, through the intake of water.

The connection to the vacuum cleaner is 32 mm, but an adapter is included for other diameters. The water intake consists of a quick connection for 16 mm hose and a rubber stopper, which covers the intake of the vacuum cleaner and makes, during wet cutting, secondary grip functions, improving ergonomics during cutting. The head of the TC-125 is foldable up to 45º and adjustable in height. In this way, it is possible to miter and obtain special and more precise cuts (it must be taken into account that the thickness of the cut varies according to the diameter of the disc).
Specifications

+
THE use of SLIM SYSTEM guides is NECESSARY.
Accurate cut thanks to the Slim System guides. Equipped with a carbon steel slide on adjustable stainless steel radial bearings.
Double reduction system / dust control. Dry and wet cut.
Cutting head adjustable in height (cutting effect) and foldable from 0 ° to 45 °. (miter). FAST adjustment system.
Greater ergonomics Additional BI-MATERIALhandle, mainly for miter cutting.
Materials
For cutting ceramic sheet and all types of ceramic tile. Suitable for natural stone and sintered stone. Especially suitable for large format pieces.
Features
Compatible with Ø125 or Ø115 mm discs. (Suitable for discs with reinforcement bar, type TVA).
Switch with SECURITY lock. Avoid the start-up involuntary. Electric cable with PRCD (differential).
Direct connection to vacuum AS-30 PRO (Ø32mm). Includes adapter for other models and brands (Ø37, 42 and 50 mm).
Regulation valve and quick connection for hose ** (Ø16 mm). Rubber stopper for the suction outlet. IMPROVES ergonomics in wet cutting.
Injected aluminum disc protector with transparent polycarbonate lid with opening and quick closing system. IT FACILITATES the disc change and MINIMIZES the projection of particles and water.
Tilting side guard for miter cutting. REDUCES water splash and IMPROVES dust aspiration.
Includes TCR-125 SUPERPRO blade (dry cut), carrying case and accessories. IT FACILITATES transport and handling.