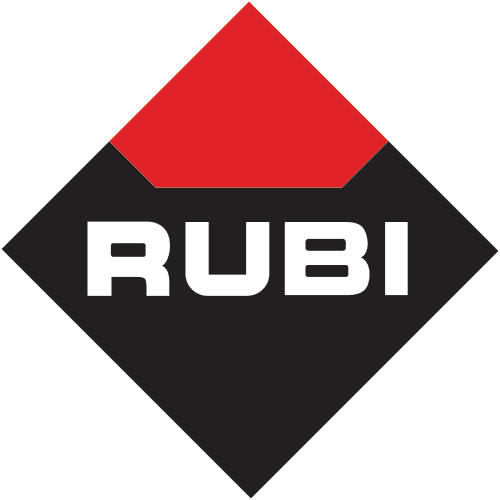 The versatility of the RUBI products is for many of its most outstanding characteristics. The diamond disc for cutting and roughing ECD is, in reality, 2 discs in 1. The diamond disc for cutting and roughing ECD allows us to work with natural stone, all types of ceramic tile and synthetic materials.

Combining the quality of cutting a continuous band disc and the speed and smoothness in the roughing of an electrodeposited disc. In addition, the ECD disk has diamond on both sides, which allows us to: make cuts at a higher speed and be able to take full advantage of the disc in roughing jobs, since we can turn the disc over when the outer side has already reached its end. The cutting and roughing diamond disc ECD is perfect for adjusting or grinding cuts and, with the same tool, the defined and finished edges and edges. In this way, RUBI puts at the disposal of the specialized professionals, not only, a versatile and effective tool in their day to day, but also allows them to obtain a better performance and make their work profitable beforehand. Diamond cutting and grinding discs allow us to cover precisely that need for versatility.
Specifications

+
Offering in a single product both the cutting function of all types of ceramic materials and natural stones, as well as being able to perform roughing or edge definition works. The use of electrodeposited diamond discs, such as the RUBI ECD, reduces the generation of vibrations during dry cutting with a grinder. What makes it an excellent choice to work with all those materials with a high risk of breakage. Within its range of diamond discs, RUBI offers the professional two disc qualities: PRO and SUPERPRO. PRO discs offer the professional user the best relationship between performance and price. SUPERPRO discs are the most suitable option for the most demanding jobs.
For cutting and grinding natural stone, all kind of ceramic tiles and synthetic materials. Fine grinding
For thicknesses <0.98" (<25 mm)
Electroplated continous rim blade.
For use in grinders. Connection: Thread M14
NOTE: The life of the blade can vary significantly, depending on the hardness of the material worked. The constant use in cuts with high hardness materials can also mean a reduction in the life of the blade